«Languages»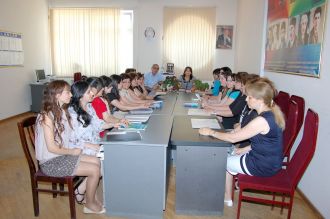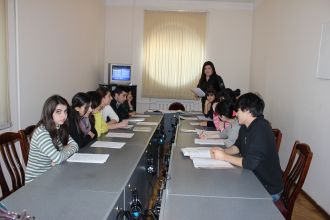 Naila Ali gizi Aslanova, Associate professor, leads the chair of "Languages". The professor-teaching staff consists of 23 members: one of them is a Doctor of Sciences, Professor, eight are Doctors of Philosophy, Associate professors and fourteen are senior teachers.
A number of subjects, such as "Developing Speech and Pronunciation Skills", "Developing Writing and Reading Skills", "Verbal Translation of Written Texts", "Translation of Legal Documents", "Verbal Translation", "Discourse", "Written Translation (to the source and target languages), "International Organizations", "Fundamentals of Professional Translation", "Medical Translation", "Business English", "Russian", "The Azerbaijan Language", "Foreign Countries Literature" are taught in the chair.
The workshops are organized in language laboratories supplied with the audio-visual aids and the modern technical appliances.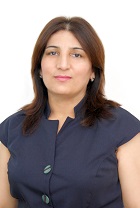 NAILA ALI GIZI ASLANOVA
Associate professor,
Head of the chair of "Languages"